Available Positions
We are currently hiring undergraduate summer researchers, Coop students, Master's students, PhD students, and Postdocs. There are special graduate student positions available for foreign students who are francophones (i.e. those who have at least one diploma of any kind (e.g. ecole secondaire) in french). Unfortunately, we do not have funding to accept other types of foreign students.
Please email
Jeff Lundeen
directly to enquire. Useful information to attach to your email includes your CV, transcript (unofficial is okay), and up to three publications (if you have any). Consult
here
first for more information about graduate studies at uOttawa.
Former Students
Brandon Sutherland (currently a PhD student  in Photonics at U. of Toronto):
Jeff is a pleasure to learn from, work side-by-side with in the lab, and go out for good food and cold drinks with after work and I can't thank him enough for his influence on my academic career.
Aabid Patel (currently a PhD student  in Photonics at Southampton U., UK):
His method of supervision is one that I find quite rare in academia. Instead of acting as a delegating boss, he works alongside you and and with his down to earth mentality, helps you understand concepts while working through the task at hand.
Corey Stewart (currently a PhD student in Photonics at U. of Toronto):
He truly gave me an appreciation for the scientific method I'd never before experienced and is a tremendously talented and approachable supervisor.
Thanks guys! Click
HERE
for the full quotes.
Quantum Photonics is an ideal field in which to do a graduate degree because it directly  links the fundamental with the applied. For example,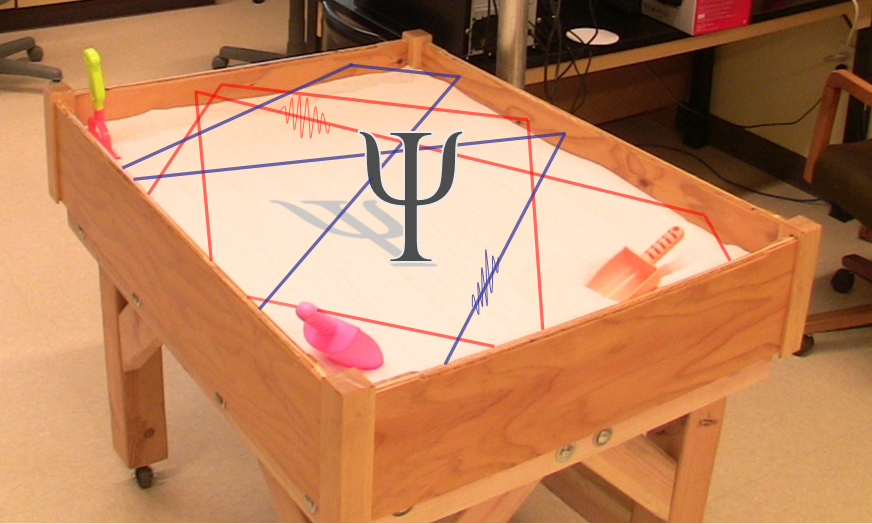 students in Quantum Photonics get training in applied subjects such as building, designing and operating lasers, modeling optical microchips, fibre optics, high-speed electronics, optical raytracing, and nonlinear optics. On the other hand, we use these tools and techniques to build devices and experiments that use and test the underlying ideas and concepts from quantum physics like entanglement and measurement.
There is no other field in which you can personally build your own experiment from the ground up and yet still probe some of the central questions we have about the world like "what is a quantum wavefunction?". During the course of their degree, students in quantum photonics typically build and perform a number of  experiments. These self-contained exeriments usually fit on a single optical table which itself takes up roughly a third of a laboratory. In the process, students are trained and supported by other members of our group with goal of  becoming independent and accomplished researchers.
Founded in 1848,
University of Ottawa
is a large (40,000 students) French and English institution located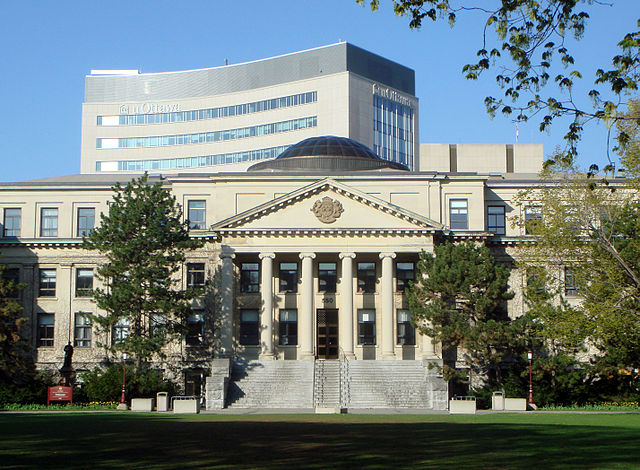 in downtown Ottawa along the Rideau Canal. In terms of research, it is ranked
180th in the world
and is one of Canada's top 10 research universities. It aims to be in the top five by 2020 through extensive investment in new research. As part of that, the University is renewing its focus on photonics and optics research by hiring numerous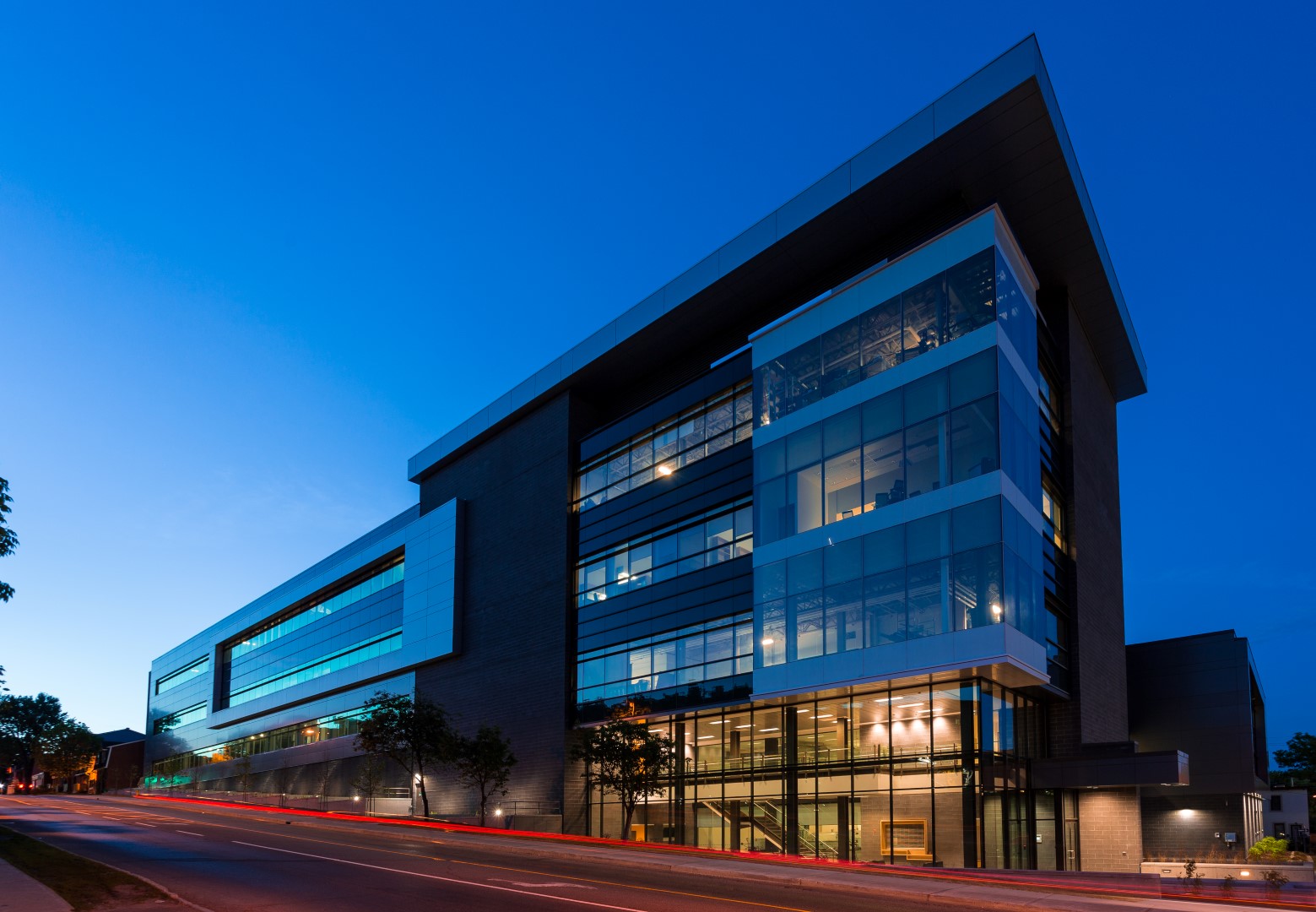 new faculty including
Robert Boyd
who was awarded a $10 Million
Canada Excellence Research Chair
(CERC) in Quantum Nonlinear Optics with $15 Million in supplemental funding from the university. The
Centre for Research in Photonics
at the unversity is home to world renowned optics researchers
Trevor Hall
and
King Faisal Prize
Winner
Paul Corkum
, among others. The new home of photonics research on at the university will be the
Advanced Research Complex (ARC, see picture to the left)
, which is on schedule (as of Aug. 2013) to be completed in Spring 2014. Student and Faculty offices will be on the third floor of ARC. The first floor of the new building will house over 500 square metres of combined lab space for the CERC related researchers (Boyd, Lundeen, Dolgaleva, and one more), including vibration isolated floors, assembly and clean rooms for fabrication. We also have access to photonic fabrication facilities at Carleton University, at the
Canadian Photonics Fabrication Centre
, and to world-wide fabs through
CMC Microsystems
.
Canada has a long history of research and development in information and communication technology, from
Alexander Graham Bell,
to
Marconi's first transatlantic transmission,
to the
invention of heterodyne detection
. In Quantum Information,
Gilles Brassard
in nearby Montreal, co-invented quantum cryptography, and
Ray Laflamme
in Waterloo laid down the framework for Quantum Error-Correction. Some of the largest optical telecommunications companies in the world, like JDS and Nortel, had their homes in Ottawa. Today, there are over 40 photonics companies, including
Ciena
,
OneChip Photonics
, and
OZ Optics
, doing research in Ottawa. These are supplemented by the
Canadian Photonics Fabrication Centre
at the National Research Council (Canada's National Laboratory, with over 3000 researchers in Ottawa alone) and the
Communications Research Centre
.  A number of cornerstones of digital communication systems were pioneered in Ottawa, including
packet switching
,
Fiber Bragg Gratings
, and
Coherent Optical Communication
. Ottawa is a smart city; it has the highest per capita concentration of PhDs in Canada, and the second highest concentration of science and technology employment in North America, surpassed only by Silicon Valley.
Ottawa is the capital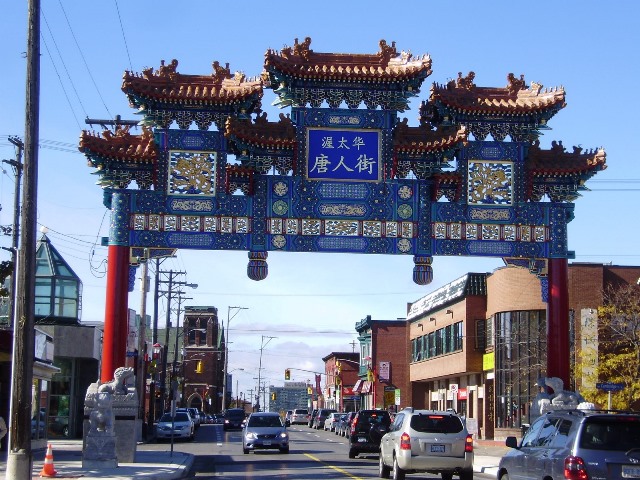 of Canada and is the fourth largest city in the country. Mercer ranks the quality of life in Ottawa as the 2nd highest in the Americas. It is a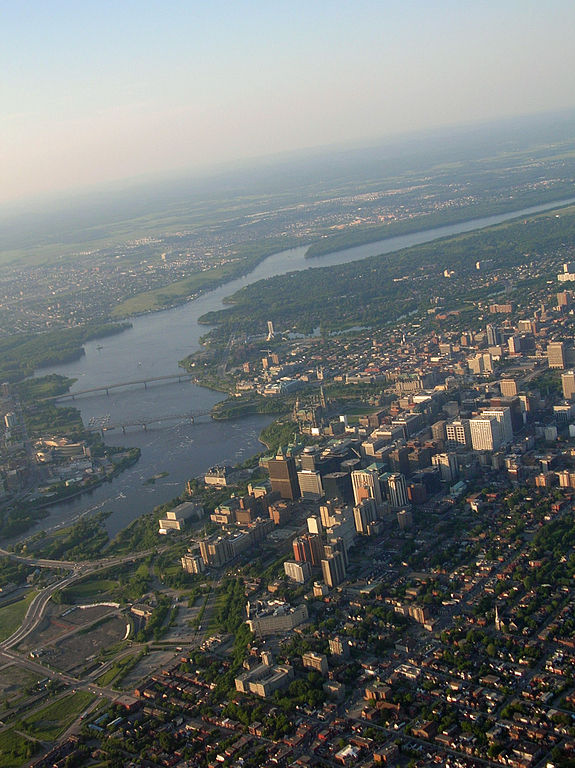 charming city with large French, English and immigrant populations. It has a distinct neighbourhoods, including a Little Italy, a Chinatown, a French Quarter, a central Market, and a few different trendy areas with cafes, bars, and shopping. The
restaurant scene is fantastic
and thanks to our large immigrant communities it has cusine from around the world: Sushi, Cantonese, Seshuan, Vietnamese, French, Mexican, El Savadorian, Mongolian, Korean, Italian, Lebanese, and more. Ottawa is home to many of Canada's high quality National Museums and Cultural Institutions, such as the
National Gallery of Canada
and the
Museum of Civilization
, and the
National Arts Centre
.
Ottawa has plenty of natural space since it is positioned at the meeting of four significant waterways, the Gatineau River, the Rideau River, the Rideau Canal, and the Ottawa River. The latter is one of the world's great rivers (it looks more like a lake at some points) and is home to sailing, fishing, canoeing, and swimming right in the middle of the city. Every winter, the Rideau Canal freezes over and is turned into the world's largest (almost 8km long)
skating-rink
. Stretching right into the Ottawa area,
Gatineau Park
is a vast 360 square kilometre natural park with camping, cross-country skiing, hiking, down-hill skiing, snow-shoeing, swimming, canoeing and more. Many people bicycle to work on the
city's extensive system of trails
.